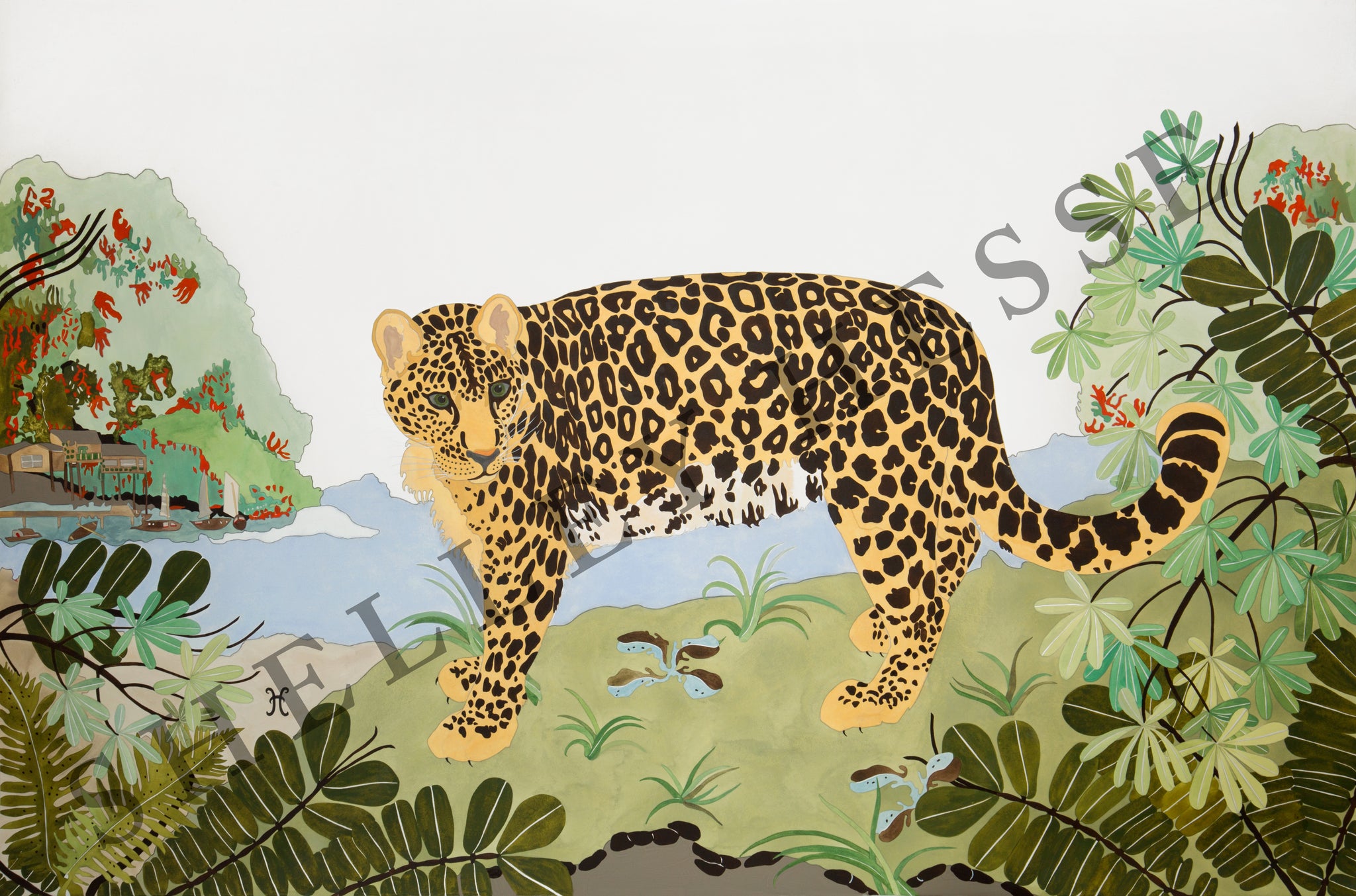 Female Leopard
40" x 60" unframed 
47" x 67" framed
© SHELLEY HESSE 2017
watercolor, gouache, pencil, ink, and pastel on paper
In this painting, a young female leopard approaches the shore along the coastline of China.  It shows the line that blurs between the domain of the wild and that of man, and how man encroaches more and more into the wild, leaving animals exposed along our borders.  
Leopard is one of the five big cats in the genus Panthera with the largest distribution of any wild cat.  They roam widely in Africa as well as eastern and southern Asia.  It is similar to the jaguar, with its relatively short legs, long body and large head, yet is smaller and more lightly built.  Its rosettes are smaller and more densely packed than that of the jaguar and don't usually have spots in their centers.  The leopard is exceptionally adaptable, ranging in habitats from the rainforest to coastal and mountainous terrain.  The leopard represents resilience in nature, a true survivor in a time when so many other big cats are struggling.  Its sheer beauty is something that will stop you in your tracks if you are ever faced with it.  
The leopard is listed as Near Threatened on the IUCN Red List since leopard populations are declining in large parts of their range.  The largest threats are habitat loss and pest control.  Leopards show a great diversity in coat color and rosette patterns, with more circular rosettes in East Africa and more square rosettes in southern Africa, while growing more large in size in Asian populations. They are very diverse in size, with males being around 30% larger than females.  
"Kilimanjaro is a snow-covered mountain 19,710 feet high, and is said to be the highest mountain in Africa.  Its western summit is called the Masai 'Ngaje Ngai', the House of God.  Close to the western summit there is a dried and frozen carcas of a leopard.  No one has explained what the leopard was seeking at that altitude."
-Ernest Hemingway, The Snows of Kilimanjaro and Other Stories